Healthcare Delivery System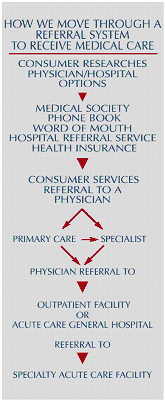 Today's modern acute care general hospitals deliver health and medical services through networks of physicians, hospitals, public and private clinics, public health professionals and health insurance companies. Care can be obtained within this system for a wide variety of medical needs. The kind or extent of the treatment or procedure a patient receives - coupled with who is responsible for the care - is what medical professionals refer to as a level of care.
A medical referral is a form of recommendation that takes place in medical services. A medical referral recommends appropriate care and refers patients to the level of care needed to fulfill the recommendation.
NOTE: The type of medical referrals discussed here are not to be confused with the physician referral programs offered to consumers through local hospitals and other consumer referral services discussed in the Finding a Physician section.